Australia (ABC News) — Pacific Island countries have agreed not to sign a region-wide trade and security deal with China after a high-level meeting between Chinese Foreign Minister Wang Yi and his counterparts from 10 Pacific nations in Fiji.
China was seeking a wide-ranging deal that covered free trade, police cooperation and disaster resilience.
Fijian Prime Minister Frank Bainimarama said Pacific nations were united in their approach after the decision was announced on Monday afternoon.
"As always, we put consensus first among our countries throughout any discussion on new regional agreements," Mr Bainimarama said at a press conference with Mr Wang.
"Fiji will continue to seek fertile ground for our bilateral relationship. The challenges our people face will only intensify until collective solutions rise to meet them.
"And I am grateful to the minister and his team for bringing the spirit of productive cooperation with them to Fiji."
Mr Bainimarama said he sought a stronger commitment from China on climate action and cutting emissions, as he did with all world leaders.
"Geopolitical point-scoring means less than little to anyone whose community is slipping beneath the rising seas," he said.
China's ambassador to Fiji, Qian Bo, said some Pacific nations held concerns about specific elements of the wide-ranging proposal.
"There has been general support from the… 10 countries [with] which we have diplomatic relations. But of course, there are some concerns on some specific issues," he said.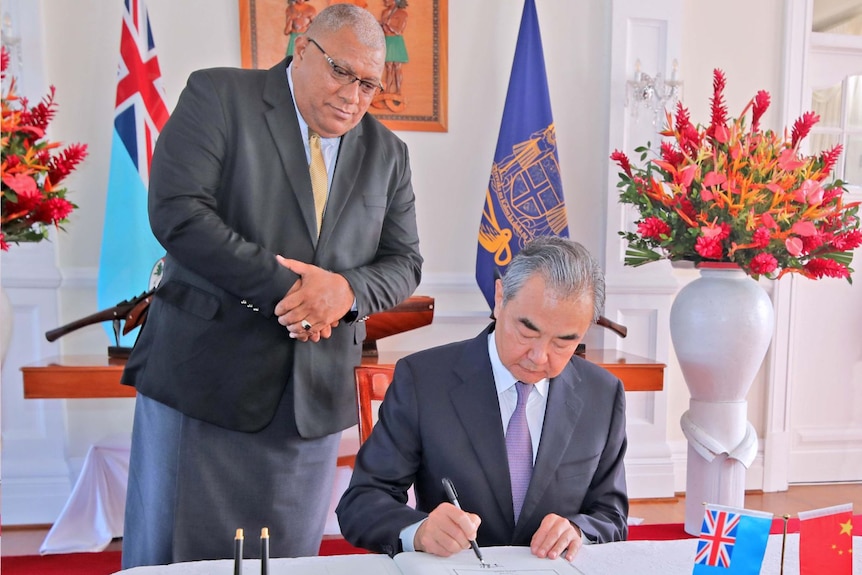 He said China was preparing a position paper that would be released after Mr Wang's visit to the region.
"We are always in constant consultations with our friends," he said.
"It is also China's policy — we never impose anything to other countries … never has that happened.
"We have signed three agreements with Fiji, they are all concerning economic development."
Mr Wang said China "will continue to provide assistance to Pacific Island countries with no political strings attached".
"All agreed to be committed to high-quality development of Belt and Road cooperation and to jointly tackle such challenges a COVID-19 and achieve economic recovery," he said.
"For Pacific Island countries, China is not a newcomer but an old friend with long-standing friendships. And fast progress of relations between China and Pacific Island countries does not come out of thin air," he said.
"Some have been questioning why China has been so active in support Pacific Island countries," he said.
"My advice for those people is don't be too anxious and don't be too nervous."
He said China was supporting the development of countries not just in the
He said China was supporting the development of countries not just in the South Pacific, but also Africa, Asia, South America and the Caribbean.
"The common development and prosperity of China and all the other developing countries would only mean greater harmony, greater justice and a greater progress [for] the whole world."
Some Pacific leaders warned against signing deal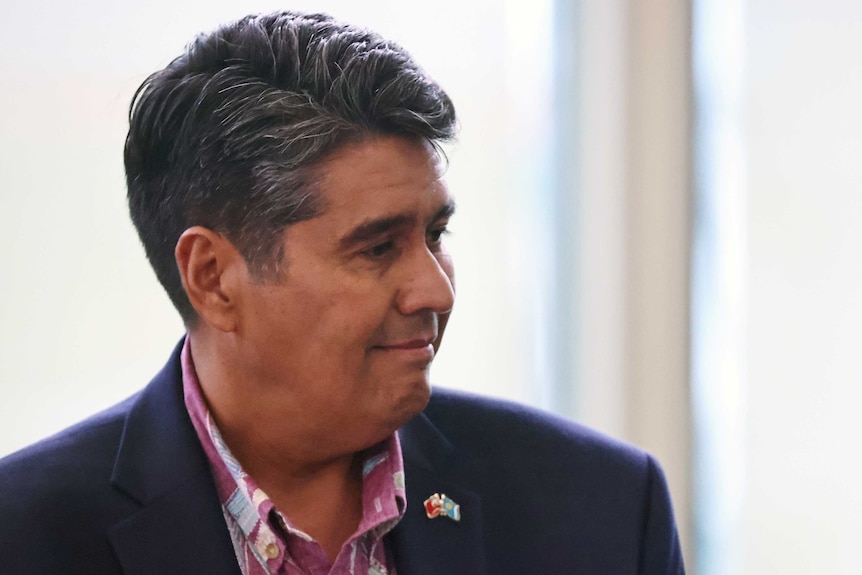 The shelving of the multilateral agreement, which also covered security and fisheries, came after Federated States of Micronesia's President David Panuelo warned nations against signing it, fearing it could spark a new Cold War.
Surangel Whipps Jr, the President of Palau — which does not have diplomatic ties with China and instead recognises Taiwan — had warned other regional leaders that wide-ranging trade and security pacts with China could have harmful consequences.
He said he hoped the region had learnt from its past trauma.
"We want to have peace and security in the region, and we don't want to go through what we went through in World War II, so when we see these kinds of activities it does raise a concern for us," he said.
Australia wants to 'bring new energy to the Pacific'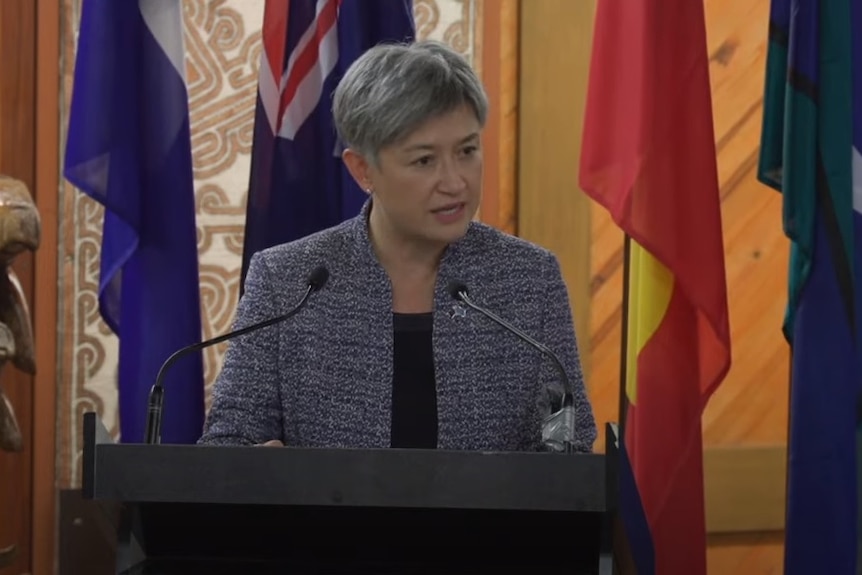 In the wake of the Pacific nations' decision, Foreign Minister Penny Wong said Australia wanted to build a "stronger Pacific family" through security and defence by bringing "new energy" to the region.
"It's up to the countries of the region to make choices for their people," Senator Wong, who has been visiting Fiji, told the ABC.
"The security of the Pacific is the responsibility of the Pacific family, of which Australia is a part … and we want to help build a stronger Pacific family.
"Australia will always work with the Pacific family to address shared security challenges, which is why we will boost support for Pacific maritime security and increase defence cooperation.
"We want to bring new energy and more resources to the Pacific.
"And we want to make a uniquely Australian contribution including through the culture we share and economic opportunities through our Pacific labour programs and permanent migration."