TOKYO (Yomiuri Shimbun) — Prime Minister Fumio Kishida and visiting U.S. President Joe Biden confirmed at a meeting Monday that their two nations will jointly stand in opposition to China and Russia, which are increasing their military activities in East Asia, and play a leading role in the fields of diplomacy, security and the economy.
Japan's commitment to further deepening the Japan-U.S. alliance will be put to the test.
According to the Japan-U.S. Joint Leaders' Statement released after Kishida and Biden's summit talks, "Prime Minister Kishida stated his determination to fundamentally reinforce Japan's defense capabilities and secure substantial increase of its defense budget needed to effect it."
A source close to the Japanese government said the expression "substantial increase" was the "major point of the talks." Kishida did not name a specific amount, but it is quite unusual to inform the United States of a planned increase in the defense budget before the Japan government actually prepares its budget.
Some Japan officials were wary of the prime minister mentioning a higher defense budget, because a drastic increase could bring up the issue of how to fund it, which might have an impact on the House of Councillors election scheduled for July.
Military balance
Kishida nevertheless mentioned the increase due to the fact that the U.S.-China military balance in East Asia is changing in favor of China, as Beijing has increasingly engaged in hegemonic actions and the expansion of its military power.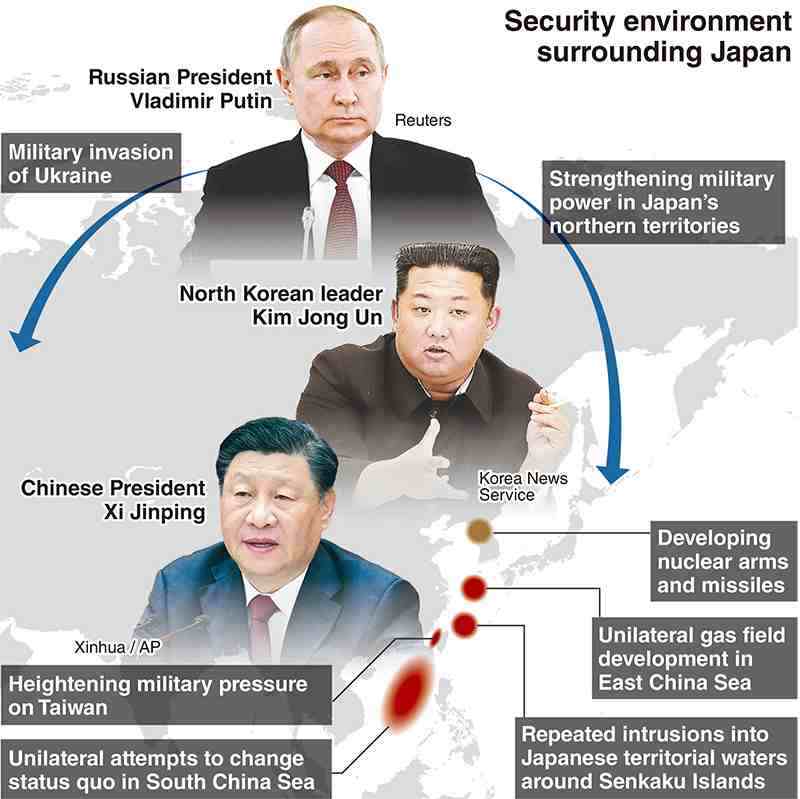 China has exceeded the United States in the number of its navy ships and now has the most in the world at about 350. Also, the number of Chinese bombers is said to surpass that of the United States by about 60, and Beijing is working to develop antiship ballistic missiles that could target U.S. aircraft carriers and hard-to-intercept hypersonic glide vehicles.
Earlier this month, the Chinese Navy aircraft carrier Liaoning and other ships including missile destroyers conducted more than 300 takeoff and landing drills for fighter jets and other aircraft in waters near Okinawa Prefecture. Two bombers passed between the main island of Okinawa and Miyakojima island, both in the prefecture, which appears to have been a drill assuming an invasion of Taiwan, according to sources.
Biden welcomed Japan's moves, saying at a press conference, "I applaud Prime Minister Kishida's determination to strengthen Japanese defense capabilities as well." This was prompted by the United States' belief that it would be difficult for it to surpass China on its own in terms of military power in the Indo-Pacific region.
Australia, the United Kingdom and the United States formed a trilateral security cooperation framework in September called AUKUS, while the U.S. 2022 National Defense Strategy compiled in March advocates the concept of "integrated deterrence," which involves consolidating various resources of its partner nations, including military capabilities and advanced technology. As illustrated by these moves, Washington is seeking to compete with Beijing by cooperating with friendly nations.
The Russian military is also increasing its presence around Japan. The joint statement said, "The two leaders expressed concern about the increasing activities of Russian military forces around Japan, and committed to remain attentive to cooperation between China and Russia in military affairs."
As for North Korea, which has repeatedly launched ballistic missiles, the two leaders confirmed that they will deal with the country through bilateral cooperation between Japan and the United States and trilateral cooperation including South Korea.
Financial resources, equipment
The Japanese government has hurdles to overcome in increasing the defense budget. In three documents to be revised by the end of this year, including the National Security Strategy, Kishida plans to include the possession of counterattack capabilities to attack enemy facilities, such as missile launch bases, for self-defense, aiming to drastically strengthen Japan's defense capabilities.
Specific measures will include the procurement of counterattack equipment like long-range cruise missiles, and steps to deal with new fields such as space, cyber and electromagnetic waves. The issues faced by the government include selecting necessary equipment based on coordination with the United States, and securing financial resources amid the expected rise in social security expenses.