(RNZ Pacific) — Chinese foreign minister Wang Yi co-chaired the virtual China-Pacific Islands foreign ministers meeting with Fijian prime minister Frank Bainimarama in Suva on Monday, as he approached the halfway point in his marathon tour of the region.
On the agenda was a region-wide deal which was leaked to the media, that had left Pacific political analysts anxious about the nature in which China was going about exerting its influence.
But the region's traditional partners – the United States, Australia, and New Zealand – let out a collective sigh of relief, after the deal was not signed.
The official word from China's ambassador to Fiji Qian Bo was that some countries had "some concerns on some specific issues" on China's planned common development agenda.
"We put consensus first among our countries throughout any discussion on new regional agreements," said Bainimarama, at the joint press event following the meeting.
But Wang declared the meeting was "a great success showcasing the common desire of China and Pacific Island countries to promote our bilateral relationships and upgrade our bilateral ties".
He announced the 10 Pacific nations with diplomatic ties with Beijing had "reached consensus" in five areas, including deepening comprehensive strategic partnerships, defending their sovereignty, pursuing common development and prosperity, advocating true multilateralism, and promoting people-to-people connections.
He said China would release a position paper "on our own positions and propositions and cooperation proposals," adding "going forward we will continue to have ongoing and in-depth discussions and consultations to shape more consensus on cooperation" with Pacific Island countries.
"China is a major developing country and a major country with a great sense of responsibility," he said.
He said it was not only supporting countries in the Pacific, but also countries in Africa, Asia, Latin America, and Caribbean.
"We are supporting their development. We are doing this today and we have been doing this over a long time.
"China always stands together with the rest of the developing world, in particular small and medium-sized countries," he said.
"China will continue to provide assistance to Pacific Island countries with no political strings attached and we will continue to help … and build greater capacity for self-driven development."
His advice to those who have been critical of his country's active involvement in the region was "don't be too anxious and don't be too nervous".
"The common development and prosperity of China and all the other developing countries would only mean greater harmony, greater justice, and greater progress of the whole world," he said.
But just as regional observers only began dissecting the outcome of Mr Wang's meeting with his counterparts – some even suggesting the trade and security deal might have seen its end – without wasting any time, China released its position paper on Tuesday.
What's not known
While much of the text in the paper remains similar to the leaked draft security deal, it does not include any mention of free trade, joint policing, and cybersecurity cooperation.
"China and Pacific Island countries, as developing countries, share broad common interests in safeguarding peace and stability in the Asia-Pacific region, upholding international equity and justice, and promoting sustainable and resilient development," the paper on mutual respect and common development with Pacific Island countries states.
"China is committed to deepen its comprehensive strategic partnership featuring mutual respect and common development with Pacific Island countries, so as to build a closer China-Pacific Island countries community with a shared future," it adds, before laying out a 15-point vision and 24 action points.
China is one of 18 dialogue partners of the Pacific Islands Forum and it is expected China's vision for the region will be a major point of discussion, among other issues, when forum leaders – including Australia and New Zealand – convene in Suva next month.
"Being a forum dialogue partner is not without its own expectations and responsibilities," said PIF secretary-general Henry Puna in a statement on Monday.
"Chief among which, is to nurture a relationship that is respectful of our shared values, built on joint collaboration and partnership, works with and through our regional mechanisms and progresses mutually agreed priorities."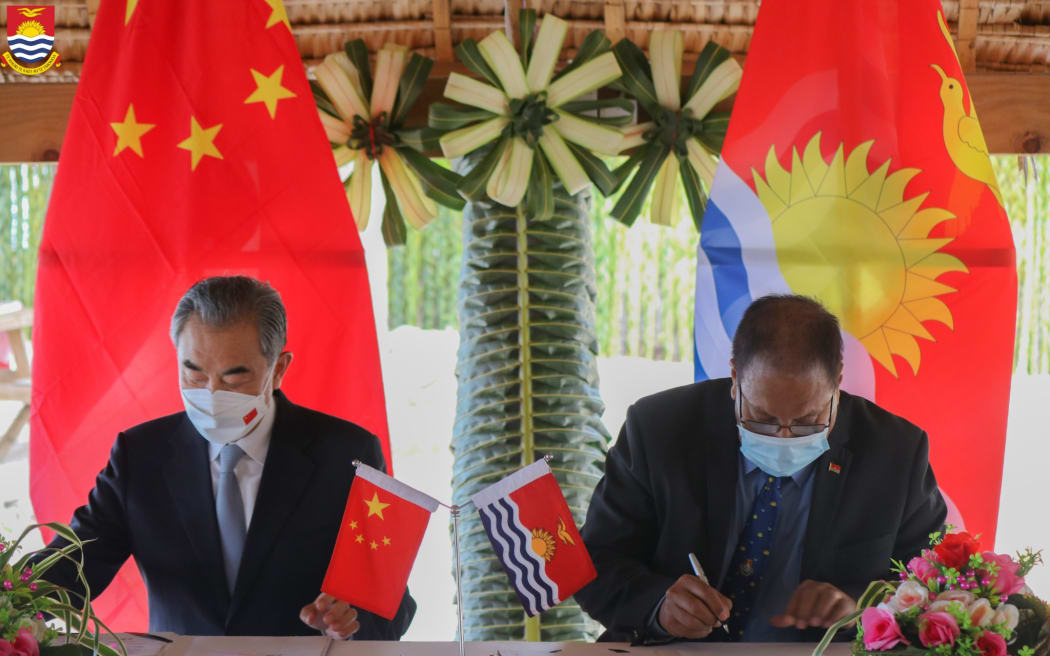 Wang Yi signing agreements with Kiribati President Taneti Maamau Photo: Kiribati government
Wang Yi has been island-hopping since last Thursday – beginning his tour in Solomon Islands, a brief stopover in Kiribati, then on to Samoa on Saturday, landing in Fiji on Sunday, and Tonga on Tuesday.
He is in Vanuatu on Wednesday, and then visits Papua New Guinea, as well as holding virtual meetings with government representatives of the Cook Islands and Niue.
He has been signing bilateral agreements in these countries focusing on cooperation on everything from building roads and bridges, hospitals and schools, to disaster risk reduction, to humanitarian aid and pandemic response.
Wang's visit has been contentious for obvious geopolitical reasons and two other key themes have emerged.
First, is the secrecy and lack of transparency that surrounds his discussions with the leaders of Pacific nations.
And second is the treatment received by local journalists, who are either intimidated by local police and government officials or completely blocked by Chinese officials from doing their jobs.
According to RNZ Pacific correspondents in Fiji, Kiribati, and Solomon Islands, the restrictions placed on covering Wang's trip are unlike anything that they have experienced before.
RNZ Pacific's Fiji-based correspondent Lice Movono described it as "disturbing" after local journalists were ordered and physically pushed around by Chinese officials.
But irrespective of the initial pushback on a multilateral agreement by Pacific leaders, the secrecy, and the disrespect to the local media, China has made a statement. It has a bigger role in the Pacific.
It is here for the long game despite the political efforts, resistance and rhetoric from Washington, Canberra and Wellington and will not back down from its vision to expand its diplomatic clout in the region.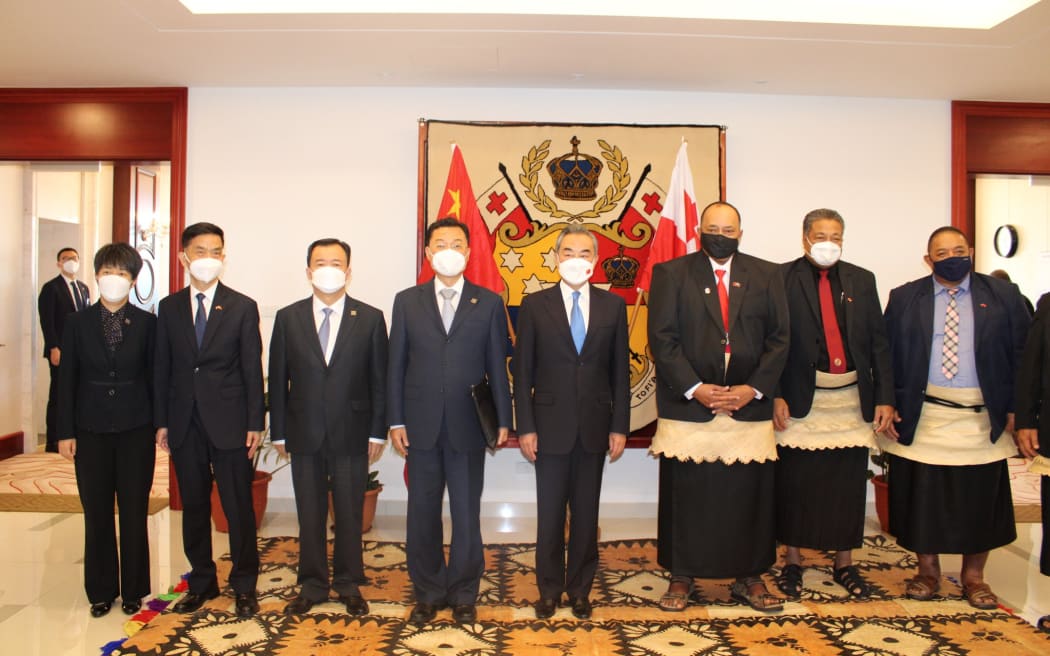 Chinese and Tongan officials in Nuku'alofa Photo: Tongan Government